Swap Meet 28 September 2019
On the 29 September 2019 the Hukerenui Hotel is holding a Swat Meet and Hot Road Show in association with the NSRA Northland. Come and have a look and pop into the museum while you are there.
Hukerenui's community hero Jack Morgan has passed away peacefully, two months after he and his wife Lorraine celebrated their 70th wedding anniversary. He was 97.Mr Morgan was a well-loved member of his community, who created a true legacy with the Jack Morgan Museum opened in 2010. Daughter Shirley Henwood said at 97 years old, he was ready to go. "We are very lucky to have had him so long," she said. Granddaughter Diane Henwood said his support of his entire family had been huge. "He helped Grandma with her Cubs (Scouts) and has been a big support for her, especially in recent years," she said. "He was very supportive of all his children, grandchildren and great-grandchildren." Ms Henwood said he passed away peacefully at Whangarei Hospital on Thursday after his health took a turn for the worse. Mr Morgan's sixth great-grandchildren was born on his birthday, a month ago. "It was very special," Ms Henwood said. Mr Morgan spent his life farming. He was appointed to stay in Northland during World War II to help the women work the farms. He contracted to farms from Ohaewai to Motatau."He worked for everyone in the community," Ms Henwood said. He spent time working for the A&P; Society, the local golf club, he was a welder, and was a life member of the Hukerenui rugby club.Ms Henwood described the Jack Morgan Museum as a community tribute to her grandfather.The museum opened in 2010 next to his local watering hole, the Hukerenui Hotel, and features a wide array of items he collected in his lifetime. Mr Morgan would visit the museum on his modified ride-on mower. In April Mr Morgan received the Paul Harris Fellowship, Rotary's highest honour. ​
Award surprise for dad, daughter​
Jack Morgan isn't one for pomp and ceremony.But there was a hint of a smile on his face when the 96-year-old from Hukerenui was presented with a top Rotary award, as was his daughter Shirley Henwood.The Rotary Club of Whangarei City recently held a special meeting at the Jack Morgan Museum at Hukerenui without Mr Morgan knowing he was the guest of honour and to be awarded the Paul Harris Fellowship. Equally, his daughter was unaware she was also to be a recipient of Rotary's highest honour.Mr Morgan's collection was stored in his three-bay garage "chokka full of stuff" before it was decided the historic gear should be put on display for the public. A dedicated team of volunteers ensured the idea became reality and in 2010 the museum was opened.Now Mr Morgan has modified his ride-on lawnmower, by taking off the blade, and once a week makes a dash across State Highway 1 to visit the museum. His eyesight might be failing him, but Mr Morgan's memory is as sharp as ever.Consultant Larry Robbins was involved in the museum project from the start. "Museums don't just happen. They need the inspiration then the work to get going," he said.He said the presentation of exhibits and the cataloguing was excellent. "This museum is a testimony to the community and Jack himself."Mrs Henwood was overwhelmed by the award and thanked everyone who had the museum a reality.District Governor Lyndsay Ford and his wife Alison made a special trip from Auckland to make the presentation.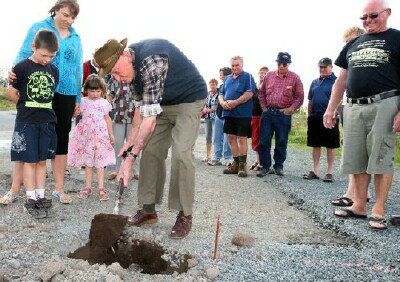 Official Opening of the Building
On the 11th July the building was officially opened, to say thank you to all those who had been involved thus far. What a frantic 3 months it had been. From a shell in mid April, the building was turned into a museum. A huge team effort, partitioned, lined & painted. Displays crated, built and painted, shelving constructed & painted. Cream separators hefted around into place.Stationary engines lifted by tractor and front end loader and transported to the museum, balanced and gently manouvered around with the help of a fork lift (in a museum!). 800 objects had been catalogued, cleaned, accessioned and photographed by an enthusiastic and happy group of local ladies. Clean up week transformed a building site into a museum. Invitations had been sent to the ASB Charitable trust, Pub charities, Oxford Trust, Lion Foundation and Whangarei District Council along with all those whom had given cash donation, materials, services and labour. In all 280 replied to the affirmative. On an overcast and bitterly cold day the crew gathered together a sound system, seating, cups, tables, rounded the sheep up out of the designated parking paddock.Thank goodness it had not rained. Once again the community rallied to assist with the catering. The hall with, cups, urns & chairs, Rugby club, cups and chairs. The chairman welcomed the 260 people gathered, after a fine stint of piping by James Morris and Sam Moscrip, he gave an update of the progress to date and the future work to be done.After the Mayor Stan Semenoff spoke, the building was blessed by Arnold Morgan. Lorraine, Jack's wife spoke on Jacks behalf. Jack then cut the ribbon and declared the building open. 94 gold balloons years. To the sound of the bag pipes all trooped into the museum. What a proud day for Jack, the committee and community. Comments were really positive "I must come back when it is finished and open to the public" were heard many times. After a welcome cuppa to warm up, many went to have a sausage from the BBQ and a bevy at the local to wind up a marvelous day. The Community Spirit Lives On. The museum will be open to the public late September. Watch this space. Jack Morgan declares the museum 'officially open' Guests at the opening The building is blessed The Forge Guests inspect the displays Archive - development construction and fitout.